Your Destination For Memories That Last Forever.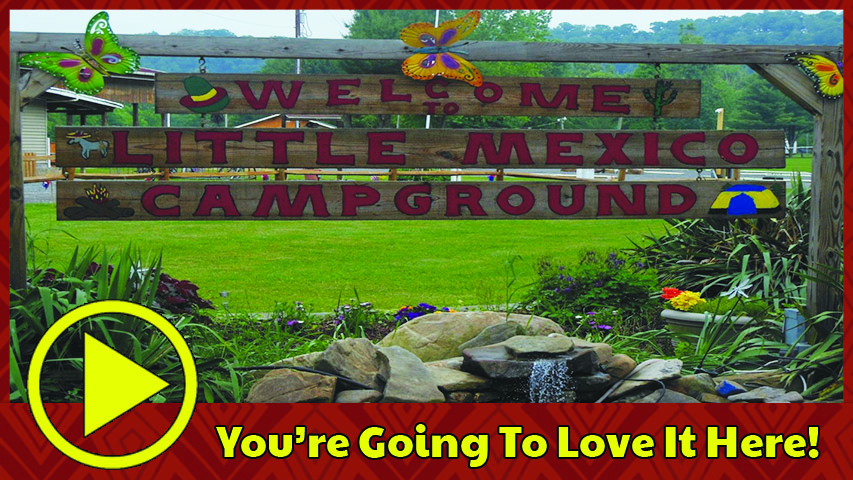 Nestled down in the beautiful valley of Central PA, Little Mexico Campground is your destination for memories that last forever. Spanning 42 acres that includes the soothing sounds of Penn's Creek and spectacular views from its banks, Little Mexico is a one of a kind campground and easily accessible from US 11/US 15/Interstate 80, midway between Harrisburg and Williamsport.
Enjoy a day or a couple of days with us and take in all that we have to offer. Penn's Creek gives you the opportunity for adventure to go kayaking or tubing. We are also home to the largest above ground pool in the US, so take some time to cool down with a refreshing swim and get away from the summer heat. Little Mexico has 3 large ponds for fishing that would give you the experience to get your first big catch. We have 2 amazing playgrounds for kids to have fun on and enjoy. You will find that we have many exciting and entertaining activities planned on the weekends for everyone to take part in. For your convenience we have a camp store to supply you with a large variety and selection of goods for your camping needs, including live fishing bait.
Little Mexico has a large selection of sites to choose from. We offer shaded and non-shaded areas, spots along the creek or further inland closer to our amenities. All of our sites have water, electricity and cable. There are multiple sites side by side located around our pavilions for groups to camp together. We offer pavilion rentals for parties, get togethers and celebrations with friends and family. You may also request multiple sites that are side by side along the creek or in other areas of the campground. Please don't hesitate to ask us for a special request for sites. We have a little bit of everything here at Little Mexico.
We are now under new ownership.
Your hosts, Steve and Missy
Largest Above Ground Pool in U.S. • Playgrounds • Fishing in Ponds
Tubing, Canoeing and Kayaking on Penns Creek • Volleyball and Badminton • Mini Golf • Horseshoes
Planned Activities • Bathroom and Shower Facilities • Dump Stations • Seasonal Sites
Cabin and RV Rentals • Full Hook Up, Creek, Basic, Pull Thru and Back In, Shaded and Open, 30 and 50 amp Sites
Pavilions • Propane • Game Room • Laundry Facility • Camp Store for Supplies and Ice (hours posted at store)
Limited Wi-Fi • Cable • Softball Field • Firewood • Nearby RV Services • Honey Wagon Service (fees apply)


Nearby Attractions
Places to go:
Downtown Selinsgrove • Route 15 Strip / Shamokin Dam • Shade Mountain Vineyards • Selinsgrove Speedway
Clyde Peeling's Reptileland • Penns Cave • Knoebels Amusement Park • Little League Museum • Point Drive-In Movies
Places to shop:
Susquehanna Valley Mall • Heimbach's Market • Monroe Marketplace Shops
Wal-Mart • Kmart • Giant • Weis • Beer Depot in Selinsgrove
Places to eat:
Amato's Pizza • Skeeters BBQ Pit • Longhorn Steakhouse • Red Robin • Front Street Station • Pepper Tree Restaurant
Services:
Salem RV • Mull's Auto Sales